Böttcher's hallmark is not product A or product B but complete solutions from A to Z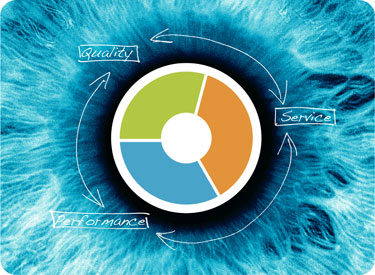 Böttcher provides the perfect synergy of printing blankets, printing rollers and printing chemicals.
Each of these is engineered and designed from the outset to optimise the interplay of components in its specific area of application.
Modern offset printing requires much more today: it demands perfect harmony of all material factors within a highly effective system.
Our aim is to achieve the best performance for rollers, blankets and printing chemistry, each optimised to give the best solution in support of the printing process as a whole.
The individual elements are not only 'fine-tuned' for optimum interaction during the development phase in our laboratories but also to optimise the entire production process on a sustained basis.
Our development laboratories also work in close cooperation with press manufacturers, ink and paper producers to optimise all production variables, recognise different parameters and offer different solutions, marking our obligation towards customers and partners. These are all technical challenges for which Böttcher already provides successful, system-based solutions.
Rollers: Exchange rollers can be delivered to you within a matter of hours. The large volume of original equipment rollers we supply is a clear sign of the confidence all press manufacturers place in our unique service and product quality.
Blankets: The BöttcherTOP printing blanket line ensures optimum print results and is available in a wide range of surface qualities and carcases for every conceivable kind of print substrate.
Chemicals: Washes and maintenance products meet the highest technical standards with respect to environmental safety, physical and chemical influence on our roller compounds, and effective washing power.
In order to keep this promise, we test and analyse if necessary all relevant variables on your press. That way we can help you identify and resolve production problems, before they impact on quality and productivity.
Böttcher's hallmark is not product A or product B but complete solutions from A to Z.
Follow Böttcher Systems: