Half-web roller wear: how to avoid it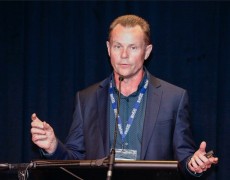 SHARE THIS:
Mitch Mulligan, Böttcher Australia MD, recently gave a presentation on roller wear at the SWUG NZ conference held in beautiful Rotorua.
For those of you who don't know, SWUG stands for Single Width Users Group and is the primary forum for production staff in the newspaper and web printing sector. Originally focused on single-width web presses, the annual conference now covers all areas of web offset printing.
It is a very popular event – 120 delegates attended this year from all over New Zealand, Australia and the South Pacific – and is a great opportunity for people in the industry to network, socialise and learn.
Mitch gave one of the technical presentations at the conference on roller wear and how to avoid it when running half-webs.
He started by explaining how roller shrinkage occurs. Shrink-inducing inks lead to loss of diameter in the centre of the roller and this loss of density in the centre of the web is compensated for by the operator resetting the rollers.
"As a result other things happen," he said. "The difference in diameter between the roller centre and edges creates overpressure in the edge areas and subsequently leads to rollers running dry/hot and rubber picking/disintegration.
"Destruction is the end result due to dynamic overload and heat build-up."
One possible measure to decrease the impact is to use BöttcherPro Protecto, a roller-protecting oil for web presses which prevents overheating of non-printing ink rollers.
It is applied by spray bottle and extension pipe and stays a long time on the rollers. A new application is needed after 50,000 copies. There is no need to wash up.
For roller maintenance, Mitch recommended BöttcherPro AR, a water-based intensive cleaner.
This provides deep-down cleaning of roller and blanket surfaces, removing encrusted inks and other dirt. It should be used for the cleaning of Rilsan and path rollers, turbo-dampening rollers and side frames of the press.
Turning to the glaze on rollers, Mitch said this is created by the mineralised residues of paper coatings, paper lint, pigments, binders of the ink and fountain residues.
He suggested weekly use of maintenance pastes on the rollers to avoid build-up of glaze and calcium layers. BöttcherPro Cleanfix removes ink and pigment residues while BöttcherPro Calciumfix removes calcium layers.
SHARE THIS: