How long can offset print rollers last?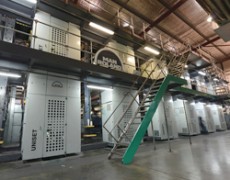 SHARE THIS:How long do you expect your rollers to last?
The answer to that question depends partly on what you expect them to do.
For instance, it's possible to keep your rollers running well beyond their recommended life expectancy, but the quality of the print you produce might leave a lot to be desired.
Plus you'll end up spending more time on maintenance and it will cost you more in the long run because worn rollers run less efficiently.
The answer also depends on how you use them. Offset rollers don't operate in isolation. They form part of a complex mechanical and chemical process and how they perform as part of that process depends quite significantly on all the other elements involved – the press chemistry, the press itself, the types of jobs being run and even the skill of the operators.
It makes sense that the rollers on a high quality, well-maintained press which uses the correct chemistry and consumables for the work being done are going to last a lot longer than on a neglected, poorly-run press.
Talk to the people who know best
The people who are best-placed to judge the life expectancy of your rollers are the roller manufacturers themselves, simply because they see so many different rollers in all types of printing environments.
A good example of how long today's rollers can last on a press can be found at the Fairfax Media plant at Mandurah in WA.
This plant was opened in 2005 with the installation of a four tower manroland Uniset pressline printing 64 tabloid pages of back-to-back colour.
At the time of installation, Böttcher rollers were used exclusively on all the towers – 32 printing units with six rollers per unit for a total of 192 inking and dampening rollers.
In 2012 it was expanded with the addition of two extra coldset towers and a heatset tower and oven.
It is a very busy site and has a reputation for being one of the best-run newspaper plants in the country, the winner of several awards for the quality of its work.
This is a site where the press is very well-maintained and has an experienced crew who know how to get the most out of the consumables used. The results can be seen in its roller usage.
So how did these rollers fare in a busy, high-speed environment?
The dampening rollers were the first to be replaced having lasted four to five years, being progressively changed out over a 12 month period in 2009. These were followed the next year by some of the inking rollers in the black units and then in some of the yellow units in 2011.
By the end of 2012, the cyan rollers in eight units and the yellow rollers in four units were still going strong – that's 48 rollers out of the original 192 still on the press after eight years of hard work.
Between them, these rollers had notched up impression counts ranging from 281 million up to over 353 million impressions each.
The rollers in the last two cyan units were only replaced earlier this year after more than nine years of service from new.
That's an impressive record and one to bear in mind next time you wonder how long a roller can last.
Plan your maintenance
Naturally Böttcher is proud of the advanced roller manufacturing that can produce such notable performance figures but, of course, that's not the whole story.
To get these sorts of results, planned preventative maintenance on the press is crucial.
Regular cleaning, pasting and checking of the roller settings are vital to optimise the performance of any roller and ensure stable print results over the course of its lifespan.
Using the right consumables on the press is also important. Mandurah has employed a range of Böttcher consumables over the years, including the BöttcherFount N-1004 GS fountain solution additive as well as cleaning pastes, decalcifying gels and intensive cleaning solutions to help maintain the press.
That's not to say that other products couldn't have been used instead but simply that Böttcher tests and guarantees its consumables for use with its rollers in order to maximise their lifespan and performance.
What's the bottom line on roller life-span?
While the extended running life of these particular rollers is noteworthy, perhaps the biggest advantage for Mandurah over the course of many years of roller service has been in terms of productivity.
Well-maintained rollers print better and more efficiently. They enable a higher quality print result which means fewer re-runs and greater customer satisfaction. There is also less risk of catastrophic failure on the press, and less time and money is wasted on unplanned downtime.
The real question then is not how long you can expect your rollers to last but rather how much valuable production time you can save over the course of their lifetime. And to maximise that you need a quality-made roller backed by compatible range of consumables.
For more information about offset rollers, check out the product specifications here.
SHARE THIS: