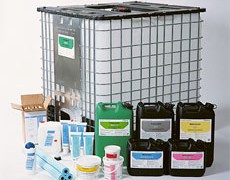 SHARE THIS:Pressroom chemistry with inbuilt added value
Washes, perfectly adapted to the requirements of users, presses and environment. Böttcher is also one of the world's leading manufacturers of washes and maintenance products for blanket and roller cleaning, with a range of dedicated washes tailored to the specific needs of each type of automatic washing system. In the area of solvent filtration, no-one has more experience than Böttcher. These products have been tested and approved by press manufacturers.
If rollers are the heart of the printing process, the fountain solution – along with the ink – is its lifeblood. For all dampening systems, paper and printing ink qualities Böttcher developed a range of fountain solution additives, which technically and economically make optimal results possible. Economical in consumption and consistent in the results, the BöttcherFount products stabilize your printing process and avoid build-up on rollers and blankets.
SHARE THIS: