Our Requirement: Set and Forget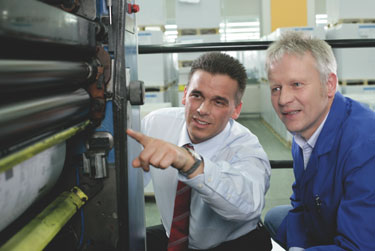 From roller manufacturer to technology leader, "Set and Forget" means that you don't have to think about the Böttcher Printing Rollers after you have installed them.
You can think, however, about extending your maintenance cycles because our materials maintain their original form and elasticity for much longer.
For the printer, that equates to less downtime for maintenance and thus higher productivity.
Böttcher rollers: the proven way to cut operating costs, increase output and improve your bottom line.
A history of innovation
Böttcher's expertise in the printing rollers is founded on nearly three centuries of technological innovation and research. In fact, Böttcher's manufacturing pedigree is without equal in the printing industry.
Find out more about Böttcher's unique history which spans more than 290 years of continuous operation.
Follow Böttcher Systems: